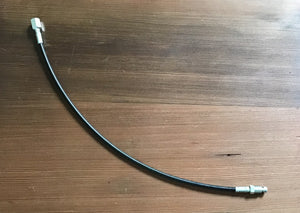 Mercedes Benz HPF2 Strut Hydraulic Control Line, late W126 front and rear Strut 126 320 4013/4113, W201 Niveauregulierung, A2019972882
This is a New Hydraulic Control Line for the late W126 HPF2 (from mid 1986 on) that controls the stiffness of the front and rear strut, Mercedes 126 320 4013/4113,. There are 4 of these hoses needed per car. 
This hose is also used for the W201 Niveauregulierung, SLS.  
We also carry the High Pressure Hose, see SKU HPF019 and Return Hose for the HPF2 Struts, see SKU HPF022 right rear strut and HPF024 left rear strut. 

Mercedes Benz part number
 A2019972882
 A201 997 2882
 A201 997 28 82
2019972882
201 997 2882
201 997 28 82
201-997-2882
201-997-28-82
600 Air Suspension Shop Number : HPF027
---
We Also Recommend
---